Revealing divergent expectations across regional institutional investors with stark divide in anticipated volatility between the East and West
82% of institutional investors in North America and Europe foresee volatility increase, compared to only 54% in Asia Pacific
Investors in Asia Pacific much more concerned about trade relations, tariffs and geopolitical tensions than elsewhere
Energy worries far more prominent among investors in Europe, while North American investors are more preoccupied with cyber-attacks
A collection of newly released regional reports from EquitiesFirst, the global equities-based financing specialist, in partnership with business-to-business publisher Institutional Investor, reveals key differences in the expectations and strategies of equity investors focused on Asia Pacific, Europe and North America. The reports, produced as part of EquitiesFirst's 20th anniversary research program, mark the latest milestone in a research partnership which previously published a landmark global study on the outlook for equity markets in May 2023.
Though there is scant divergence in the mean return expectations of equity investors across Asia Pacific (6%), Europe (5.7%) and North America (5.9%), the regional reports revealed a stark divide in anticipated market volatility between East and West. In North America and Europe, 82% of investors expect volatility will increase either somewhat or substantially over the next year-and-a-half, compared to only 54% in Asia Pacific. Moreover, a significantly higher share in Europe (36%) anticipated a substantial increase than in North America (21%).
The reports contain several other valuable market-focused insights, derived by applying EquitiesFirst's thought leadership in financial innovation and the extensive research capabilities of Institutional Investor's Custom Research Lab to capture and distil the views of more than 300 CIOs, portfolio managers and other investment decision-makers at global financial institutions.
Key regional variations and nuance that should help inform investment decisions were highlighted in the reports. Among these are notable differences in where the biggest expected risks to equity markets in each region lie.
Key findings include:
Trade and geopolitical tensions weigh on Asia Pacific: Investors focused on Asia Pacific (60%) are much more likely to see trade relations and tariffs as having a major impact on equity markets over the next 18 months than those in North America and Europe. They are also much more concerned about cross-strait relations, while those in Europe are preoccupied with war in Ukraine. Meanwhile, in North America, cyber-attacks on governments and companies by rogue actors are a bigger concern than elsewhere.
Energy concerns high on European investors' minds: Investors in Europe are far and away the most anxious about energy cost and availability. Just 6% of investors in Asia Pacific and 3% in North America ranked this as a macroeconomic factor likely to have the greatest impact on equity markets, compared to over 70% in Europe. Those concerns are linked to uncertainty about how the war in Ukraine will affect access to natural gas and other hydrocarbons across the continent.
Strong preference for smart beta strategies in North America: Investors in North America showed the greatest preference for smart beta strategies based on well-known, transparent quantitative factors, with 74% picking them as one of two groups of strategies likely to be most effective in delivering high returns for equity allocations over the next two years. In Europe and Asia Pacific, 70% and 60% of investors, respectively, said the same.
"Our work with EquitiesFirst reveals important distinctions in institutional investors' views around the world," said Mr Sam Knox, Managing Director of Institutional Investor's Custom Research Lab. "Investors focused on various regions diverge in their assessment of the geopolitical and other factors that will drive equities in their market of focus. However, regardless of their markets, all investors tend to call for active strategies in inefficient emerging and small-cap markets and smart-beta strategies in efficient, highly liquid developed markets."
"One thing that was consistent across Asia and other regions was the near universal belief of global diversification. Armed with the insights in these reports, we hope investors will be better able to assess the diverging opportunities and risks across regions. Once they have decided on a course of action, equities-based financing can provide them with a flexible, cost-effective and stable form of capital to move quickly into new positions and diversify portfolios," said Mr Gordon Crosbie-Walsh, EquitiesFirst's Chief Executive Officer, Asia.
"Investors in Australia and everywhere remain concerned about the trajectory and timing of tighter monetary policy led by the US and other developed markets. Liquidity is at a premium in light of high interest rates and prevailing macroeconomic and geopolitical uncertainties. At times like these, we continue to help numerous clients manage their capital requirements as the value of their portfolio changes," said Mr Mitchell Hopwood, EquitiesFirst's Chief Executive Officer, Australia.
"Given widespread expectations of increased volatility not only in Europe but across all other regions globally, equities-based financing can provide investors a powerful tool to monetize their long-term shareholdings and put a floor under valuations. It is a low-cost, flexible funding to help investors pursue new opportunities while maintaining the upside potential from their underlying holdings," said Mr James Mungovan, EquitiesFirst's Chief Executive Officer, Europe.
The regional reports for Asia Pacific, Europe and North America are now available on EquitiesFirst's website.
***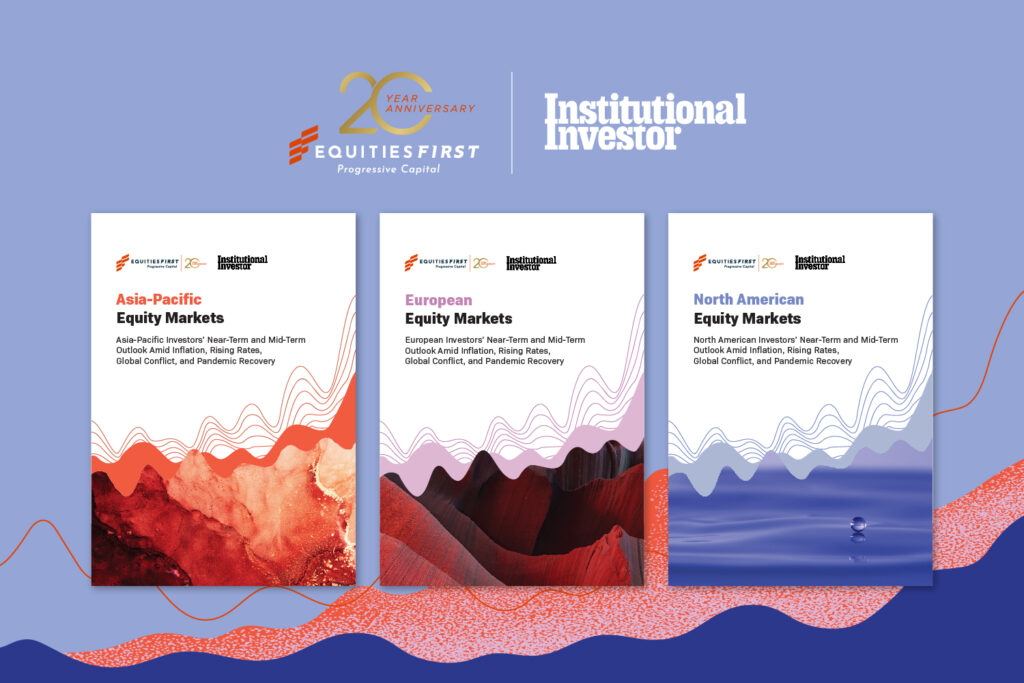 Media Enquiries:
Jessica Cheng, EquitiesFirst
+852-3958-4512 | jcheng@equitiesfirst.com
Sam Cho, Ruder Finn
+852-2201-6480 | sam.cho@ruderfinn.com
About Equities First Holdings
Founded in 2002, EquitiesFirst is a global investor specializing in long-term equities-based financing. EquitiesFirst's approach overcomes traditional limitations and redefines the financing experience through providing efficient access to capital for listed companies, entrepreneurs and investors against publicly traded securities. The total value of loans transacted is more than US$4.5 billion as of January 2023.
Headquartered in Indianapolis, USA, EquitiesFirst maintains an international footprint of twelve offices in eight countries, including the United States, United Kingdom, Spain, China (Hong Kong, Shanghai and Beijing), South Korea, Thailand, Singapore and Australia (Sydney, Perth and Melbourne). EquitiesFirst is licensed and/or registered in all jurisdictions where required.
EquitiesFirst is the pioneer of Progressive Capital – a partnership approach to investment, rooted in respect, mutual interest and understanding. EquitiesFirst delivers liquidity solutions that are vital, transformative and move partners forward.
For more information, please visit www.equitiesfirst.com/.
About Institutional Investor
For more than 50 years, Institutional Investor has consistently distinguished itself as the world's foremost financial publication and event producer for global institutional investors. By leveraging Institutional Investor, exclusive memberships, forums, industry benchmarks, award-winning content, and custom research, Institutional Investor is the essential hub for the world's financial decision-makers.
Institutional Investor's Custom Research Lab works with clients in the asset management, professional services, and technology industries to develop insightful primary research on asset markets, portfolio management, and investment decision making.
Disclaimer
This Document is intended solely for accredited investors, sophisticated investors, professional investors, or otherwise qualified investors, as may be required by law or otherwise, and it is not intended for, and should not be used by, persons who do not meet the relevant requirements. The content provided herein is for informational purposes only and is general in nature and not targeted to any specific objective or financial need. The views and opinions expressed in this Document have been prepared by third parties and do not necessarily reflect the views and opinions of EquitiesFirst. EquitiesFirst has not independently examined or verified the information provided herein, and no representation is made that it is accurate or complete. Opinions and information herein are subject to change without notice. The content provided does not constitute an offer to sell (or solicitation of an offer to purchase) any securities, investments, or any financial products ("Offer"). Any such Offer shall only be made through a relevant offering or other documentation which sets forth its material terms and conditions. Nothing contained in this Document shall constitute a recommendation, solicitation, invitation, inducement, promotion, or offer for the purchase or sale of any investment product by First Holdings, LLC or its subsidiaries (collectively, "EquitiesFirst"), nor shall this Document be construed in any way as investment, legal, or tax advice, or as a recommendation, reference, or endorsement by EquitiesFirst. You should seek independent financial advice prior to making an investment decision about a financial product.
This Document contains the intellectual property of EquitiesFirst in the United States and other countries, including, without limitation, their respective logos and other registered and unregistered trademarks and service marks. EquitiesFirst reserves all rights in and to their intellectual property contained in this Document. The Document should not be distributed, published, reproduced or otherwise made available in whole or in part by recipients to any other person and, in particular, should not be distributed to persons in any country where such distribution may lead to a breach of any legal or regulatory requirement.
EquitiesFirst make no representation or warranty with respect to this Document and expressly disclaim any implied warranty under law. You acknowledge that EquitiesFirst is not liable under any circumstances for any direct, indirect, special, consequential, incidental, or punitive damages whatsoever, including, without limitation, any lost profits or lost opportunity, even if EquitiesFirst has been advised of the possibility of such damages.
EquitiesFirst makes the following further statements that may be applicable in the stated jurisdiction:
Australia: Equities First Holdings (Australia) Pty Ltd (ACN: 142 644 399) holds an Australian Financial Services Licence (AFSL Number: 387079). All rights reserved.
The information contained on this Document is intended for persons located in Australia only and classified as a Wholesale Client only as defined in Section 761G of the Corporations Act 2001. The distribution of information to persons outside this criteria may be restricted by law and persons who come into possession of it should seek advice and observe any such restriction.
The material contained in this Document is for information purposes only and should not be construed as an offer or solicitation or recommendation to buy or sell financial products.
The information contained in this Document is intended to be general in nature and is not personal financial product advice. Any advice contained in the Document is general advice only and has been prepared without considering your objectives, financial situation or needs. Before acting on any information, you should consider the appropriateness of the information provided and the nature of the relevant financial product having regard to your objectives, financial situation and needs. You should seek independent financial advice and read the relevant disclosure statements or other offer documents prior to making an investment decision about a financial product.
Hong Kong: Equities First Holdings Hong Kong Limited holds a Hong Kong Securities and Futures Commission Type 1 License and licensed in Hong Kong under the Money Lenders Ordinance (Money Lender's Licence No. 1780/2022). This Document has not been reviewed by the Hong Kong Securities and Futures Commission. It is not intended as an offer to sell securities or a solicitation to buy any product managed or provided by Equities First Holdings Hong Kong Limited and is only intended for Professional Investors. This document is not directed to individuals or organizations for whom such offers or invitations would be unlawful or prohibited.
Korea: The foregoing is intended solely for professional financial consumers, professional investors or otherwise qualified investors who have sufficient knowledge and experience in entering into securities financing transactions. It is not intended for, and should not be used by, persons who do not meet that criteria.
United Kingdom: Equities First (London) Limited is authorised and regulated in the UK by the Financial Conduct Authority ("FCA"). In the UK, this Document is only being distributed and made available to persons of the kind described in Article 19(5) (investment professionals) and Article 49(2) (high net worth companies, unincorporated associations etc.) of Part IV of the Financial Services and Markets Act 2000 (Financial Promotion) Order 2005 (''FPO'') and any investment activity to which this presentation relates is only available to, and will only be engaged in with, such persons. Persons who do not have professional experience in matters relating to investment or who are not persons to whom Article 49 of the FPO applies should not rely on this document. This Document is only prepared for and available to persons who qualify as Professional Investors under the Markets in Financial Instruments Directive.
©2023 Equities First Holdings Hong Kong Limited. All rights reserved