Global survey captures views of 300 CIOs, portfolio managers and investment directors; Investors on average expect equities to deliver a 5.9% return in 2023
EquitiesFirst, the global equities-based financing specialist, has published a landmark report in partnership with business-to-business publisher Institutional Investor to mark its milestone 20th anniversary as a pioneer of progressive capital.
Compiled through a series of comprehensive quantitative surveys and qualitative interviews conducted between February and March 2023, the report sheds light on how the global investment community is responding to dramatic shifts in the macroeconomic and geopolitical environment amidst heightened uncertainty for equity markets.
In particular, it reveals that investors worldwide expect equities to rebound in 2023 and remain bullish on the technology and healthcare sectors. Respondents also expressed confidence in growth-oriented stocks over the medium-term, despite the challenges presented by rising interest rates and persistent inflation.
Over the past two decades, EquitiesFirst has provided partners with efficient access to capital across all major financial markets through an innovative investment approach that transcends limitations of traditional financing. Leveraging EquitiesFirst's thought leadership in financial innovation and the extensive research capabilities of Institutional Investor's Custom Research Lab, the report captures the perspectives of more than 300 CIOs, portfolio managers, and other investment decision-makers at asset management firms, foundations, pensions and endowments across North America, Europe and Asia Pacific.
Key findings of the report include:
Solid returns in sight despite volatility: Respondents expect equities to deliver a mean return of 5.9% this year, regaining ground after some of last year's double-digit losses. However, nearly three-quarters of all respondents expect volatility to increase in their market of focus regardless of location.
Inflation and interest rates are top of mind: 63% identify these as the key macroeconomic drivers of equity performance over the next 18 months. Also top of mind are operating concerns such as trade policy (47%), business spending (33%) and energy costs (25%).
Regional risks make a difference: Investors focused on North American equities are most concerned about interest rates (84%) and inflation (79%). Cost and availability of energy is the biggest worry for Europe, while trade relations and tariffs are the top concern in Asia.
Climate tops geopolitical concerns: Respondents singled out climate change (70%), the war in Europe (65%), and rogue cyber attacks (52%) as the most important geopolitical drivers of equity performance.
Bullish on technology and healthcare: Globally, 69% of investors are bullish on information technology and 64% see upside opportunities in the healthcare sector over the next three years.
Bearish on real estate and finance: Few investors were optimistic about sectors that are more susceptible to high interest rates and slower economic growth – in particular, real estate and finance.
Smart beta is the way to go: Some 67% of survey respondents worldwide see smart beta strategies, which use quantitative factors to fine-tune broad index strategies, as a preferred investment strategy, especially in the most liquid and developed equity markets.
ESG is an advantage: A majority of all investors – and two-thirds covering developed markets – strongly agree that ESG considerations increasingly provide a valuable information advantage to investors seeking to outperform the market.
Mr Al Christy Jr, Founder and Chief Executive Officer of EquitiesFirst said, "We are delighted to collaborate with Institutional Investor to conduct EquitiesFirst's 20th anniversary research program that shares pertinent insights with the global investment community. The health and stability of the global equity markets is important to the success of our partners and to our ability to serve them as a co-investor in the long-term. In continuing EquitiesFirst's 20-year tradition of being invested in our partners' success, we look forward to doubling down on our commitment to financial innovation for their benefit."
"The fog of uncertainty in equity markets becomes clearer and easier to navigate with the viewpoints from experts, and the report covers authoritative voices of investment decision making at institutions around the world," said Mr Sam Knox, Managing Director of Institutional Investor's Custom Research Lab. "We are pleased to partner with EquitiesFirst to impart the thinking and expectations of 300 investment professionals, who manage more than $8.5 trillion in institutional assets, on these important dimensions of investing in equity markets in the next few years."
The full report, titled "Global Equity Markets: The Near-Term and Mid-Term Outlook Amid Inflation, Rising Rates, Global Conflict and Pandemic Recovery," is now available on EquitiesFirst's website here.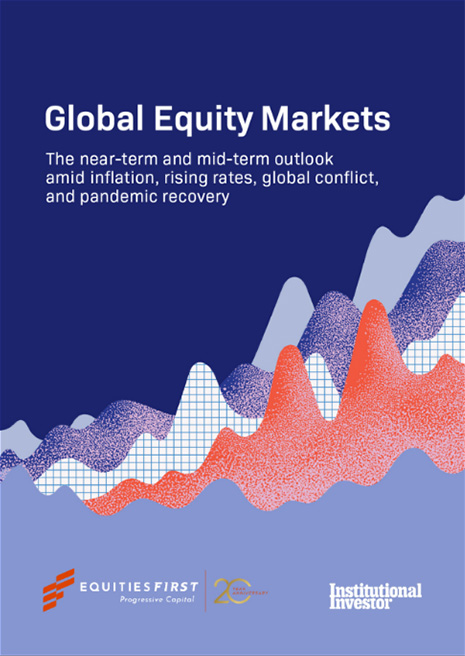 EquitiesFirst, the global equities-based financing specialist, has published a landmark report on equity markets worldwide in partnership with business-to-business publisher Institutional Investor to mark its milestone 20th anniversary as a pioneer of progressive capital.
Media Enquiries:
Christy Ng, EquitiesFirst
+852-3958-4512 | cng@equitiesfirst.com
Winky Chow, Ruder Finn
+852-2201-6474 | choww@ruderfinnasia.com
About Equities First Holdings
Founded in 2002, EquitiesFirst is a global investor specializing in long-term equities-based financing. EquitiesFirst's approach overcomes traditional limitations and redefines the financing experience through providing efficient access to capital for listed companies, entrepreneurs and investors against publicly traded securities. The total value of loans transacted is more than US$4.5 billion as of January 2023.
Headquartered in Indianapolis, USA, EquitiesFirst maintains an international footprint of twelve offices in eight countries, including the United States, United Kingdom, Spain, China (Hong Kong, Shanghai and Beijing), South Korea, Thailand, Singapore and Australia (Sydney, Perth and Melbourne). EquitiesFirst is licensed and/or registered in all jurisdictions where required.
EquitiesFirst is the pioneer of Progressive Capital – a partnership approach to investment, rooted in respect, mutual interest and understanding. EquitiesFirst delivers liquidity solutions that are vital, transformative and move partners forward.
For more information, please visit www.equitiesfirst.com/.
About Institutional Investor
For more than 50 years, Institutional Investor has consistently distinguished itself as the world's foremost financial publication and event producer for global institutional investors. By leveraging Institutional Investor, exclusive memberships, forums, industry benchmarks, award-winning content, and custom research, Institutional Investor is the essential hub for the world's financial decision-makers.
Institutional Investor's Custom Research Lab works with clients in the asset management, professional services, and technology industries to develop insightful primary research on asset markets, portfolio management, and investment decision making.
Disclaimer
This Document is intended solely for accredited investors, sophisticated investors, professional investors, or otherwise qualified investors, as may be required by law or otherwise, and it is not intended for, and should not be used by, persons who do not meet the relevant requirements. The content provided herein is for informational purposes only and is general in nature and not targeted to any specific objective or financial need. The views and opinions expressed in this Document have been prepared by third parties and do not necessarily reflect the views and opinions of EquitiesFirst. EquitiesFirst has not independently examined or verified the information provided herein, and no representation is made that it is accurate or complete. Opinions and information herein are subject to change without notice. The content provided does not constitute an offer to sell (or solicitation of an offer to purchase) any securities, investments, or any financial products ("Offer"). Any such Offer shall only be made through a relevant offering or other documentation which sets forth its material terms and conditions. Nothing contained in this Document shall constitute a recommendation, solicitation, invitation, inducement, promotion, or offer for the purchase or sale of any investment product by First Holdings, LLC or its subsidiaries (collectively, "EquitiesFirst"), nor shall this Document be construed in any way as investment, legal, or tax advice, or as a recommendation, reference, or endorsement by EquitiesFirst. You should seek independent financial advice prior to making an investment decision about a financial product.
This Document contains the intellectual property of EquitiesFirst in the United States and other countries, including, without limitation, their respective logos and other registered and unregistered trademarks and service marks. EquitiesFirst reserves all rights in and to their intellectual property contained in this Document. The Document should not be distributed, published, reproduced or otherwise made available in whole or in part by recipients to any other person and, in particular, should not be distributed to persons in any country where such distribution may lead to a breach of any legal or regulatory requirement.
EquitiesFirst make no representation or warranty with respect to this Document and expressly disclaim any implied warranty under law. You acknowledge that EquitiesFirst is not liable under any circumstances for any direct, indirect, special, consequential, incidental, or punitive damages whatsoever, including, without limitation, any lost profits or lost opportunity, even if EquitiesFirst has been advised of the possibility of such damages.
EquitiesFirst makes the following further statements that may be applicable in the stated jurisdiction:
Australia: Equities First Holdings (Australia) Pty Ltd (ACN: 142 644 399) holds an Australian Financial Services Licence (AFSL Number: 387079). All rights reserved.
The information contained on this Document is intended for persons located in Australia only and classified as a Wholesale Client only as defined in Section 761G of the Corporations Act 2001. The distribution of information to persons outside this criteria may be restricted by law and persons who come into possession of it should seek advice and observe any such restriction.
The material contained in this Document is for information purposes only and should not be construed as an offer or solicitation or recommendation to buy or sell financial products.
The information contained in this Document is intended to be general in nature and is not personal financial product advice. Any advice contained in the Document is general advice only and has been prepared without considering your objectives, financial situation or needs. Before acting on any information, you should consider the appropriateness of the information provided and the nature of the relevant financial product having regard to your objectives, financial situation and needs. You should seek independent financial advice and read the relevant disclosure statements or other offer documents prior to making an investment decision about a financial product.
Hong Kong: Equities First Holdings Hong Kong Limited holds a Hong Kong Securities and Futures Commission Type 1 License and licensed in Hong Kong under the Money Lenders Ordinance (Money Lender's Licence No. 1780/2022). This Document has not been reviewed by the Hong Kong Securities and Futures Commission. It is not intended as an offer to sell securities or a solicitation to buy any product managed or provided by Equities First Holdings Hong Kong Limited and is only intended for Professional Investors. This document is not directed to individuals or organizations for whom such offers or invitations would be unlawful or prohibited.
Korea: The foregoing is intended solely for professional financial consumers, professional investors or otherwise qualified investors who have sufficient knowledge and experience in entering into securities financing transactions. It is not intended for, and should not be used by, persons who do not meet that criteria.
United Kingdom: Equities First (London) Limited is authorised and regulated in the UK by the Financial Conduct Authority ("FCA"). In the UK, this Document is only being distributed and made available to persons of the kind described in Article 19(5) (investment professionals) and Article 49(2) (high net worth companies, unincorporated associations etc.) of Part IV of the Financial Services and Markets Act 2000 (Financial Promotion) Order 2005 (''FPO'') and any investment activity to which this presentation relates is only available to, and will only be engaged in with, such persons. Persons who do not have professional experience in matters relating to investment or who are not persons to whom Article 49 of the FPO applies should not rely on this document. This Document is only prepared for and available to persons who qualify as Professional Investors under the Markets in Financial Instruments Directive.
©2023 Equities First Holdings Hong Kong Limited. All rights reserved