EquitiesFirst, the global asset-backed financing company, today celebrated its 20th anniversary as a pioneer of progressive capital. Founded in 2002 by Mr Al Christy Jr, the firm started out by helping save a third-generation, family-owned apple farm in Michigan, USA to secure its business and legacy. Since then, EquitiesFirst has gone from strength to strength with its innovative investment approach that transcends limitations of traditional financing. Today, EquitiesFirst has established itself as a specialist in equity-backed financing, operating globally to provide partners with efficient access to capital across all major financial markets.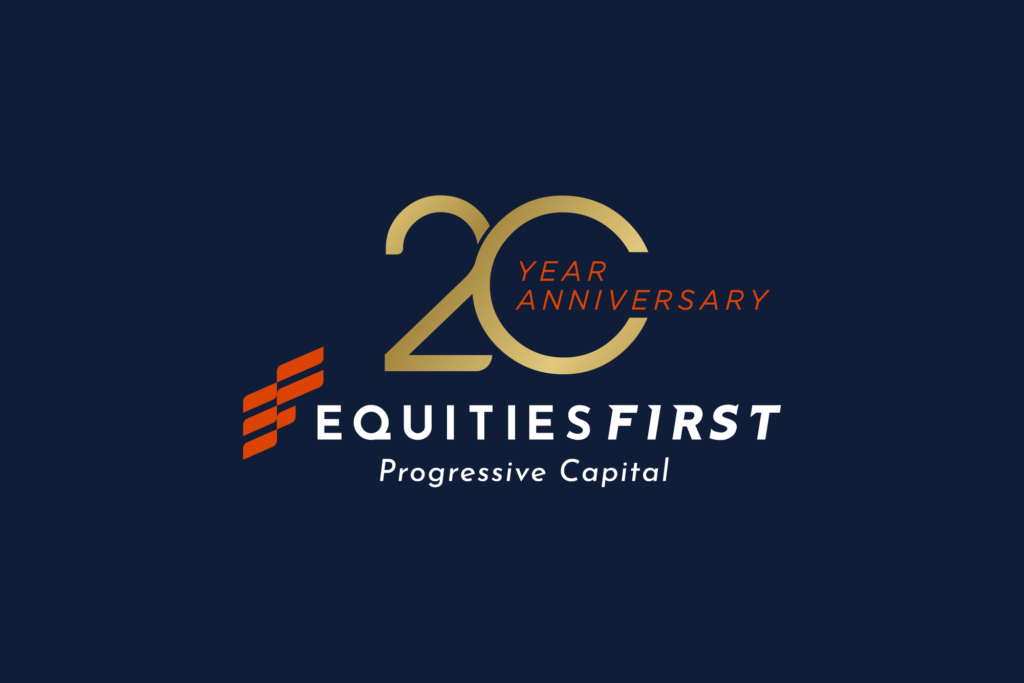 To commemorate this outstanding milestone, EquitiesFirst recently unveiled its 20th anniversary logo that encapsulates the firm's leadership and pioneering solutions that have helped its partners over the past two decades. The logo features the tagline "20 Years of Progressive Capital" to reinforce its unique business model, core values and consistent performance since inception.
EquitiesFirst added to its success story with two notable tie-ups last year. In May 2022, the company proudly partnered with renowned 14 Peaks mountaineer Nimsdai Purja MBE ("Nims") on his inspirational ascent to conquer Mount Everest. Nims successfully completed his trek to the top of the world and accentuated his feat by setting two new World Records along the way. The partnership came naturally as Nims' perspective that everything in life is possible with a determined approach and positive mindset closely aligns with EquitiesFirst's own purposeful business philosophy.
In addition, EquitiesFirst has collaborated with the Economist Impact to produce engaging podcasts that shed light on pressing issues that most concern investors. The five-episode series titled "Shelter from the Storm: Investing in the Era of Uncertainty" brings in wealth management experts who share their invaluable insights on mitigating financial risks and how investors can best position themselves to ride out the storm. The podcasts have been well received by global listeners, helping them to better manage and identify opportunities as the global economy faces severe headwinds.
Looking ahead, EquitiesFirst is joining forces with business-to-business publisher Institutional Investor to conduct a 20th anniversary research program that will delve into the prevailing equity market strategies among financial institutions around the world. Set to launch in the first half of 2023, the landmark global report will involve quantitative surveys and qualitative interviews to capture the viewpoints of over 300 asset-owning institutions and asset managers on the industry's big picture. The study will revolve around the theme "Global Equity Markets: The Near-Term and Mid-Term Outlook Amid Inflation, Rising Rates, Global Conflict and Pandemic Recovery". The collaboration leverages on EquitiesFirst's thought leadership in financial innovation and Institutional Investor's extensive research capabilities.
Reflecting on the accomplishments of EquitiesFirst, Founder and Chief Executive Officer Mr Al Christy Jr said, "The past 20 years have been a testament to the professionalism and dedication of our team who have made a far-reaching impact on supporting partners the world over to attain their business and financing goals. After two decades in the business, we are enthused to continue with our ongoing growth and expand our global footprint further. We will draw on our success and double down on our commitment to delivering even more progressive and accessible liquidity solutions over the next 20 years and beyond."
***
EquitiesFirst, the global asset-backed financing corporation, celebrated its 20th anniversary as a pioneer of progressive capital. The firm recently unveiled an anniversary logo that encapsulates its leadership and pioneering solutions that have helped partners over the past two decades.
Media Enquiries:
Christy Ng, EquitiesFirst
+852-3958-4512 | cng@equitiesfirst.com
Winky Chow, Ruder Finn
+852-2201-6474 | choww@ruderfinnasia.com
About Equities First Holdings
Founded in 2002, EquitiesFirst is a global investor specializing in long-term asset-backed financing. EquitiesFirst's approach overcomes traditional limitations and redefines the financing experience through providing efficient access to capital for listed companies, entrepreneurs and investors against publicly traded securities. The total value of loans transacted is more than US$4.5 billion as of January 2023.
Headquartered in Indianapolis, USA, EquitiesFirst maintains an international footprint of twelve offices in eight countries, including the United States, United Kingdom, Spain, China, South Korea, Thailand, Singapore and Australia. EquitiesFirst is licensed and/or registered in all jurisdictions where required.
EquitiesFirst is the pioneer of Progressive Capital – a partnership approach to investment, rooted in respect, mutual interest and understanding. EquitiesFirst delivers liquidity solutions that are vital, transformative and move partners forward.
For more information, please visit www.equitiesfirst.com/.
Disclaimer
The foregoing is intended solely for qualified, accredited, professional investors, as may be required by law, and is not intended for, and should not be used by, persons who do not meet the relevant requirements. Information provided herein is for information purposes only and does not constitute an offer to sell (or solicitation of an offer to purchase) the securities or investments referenced herein, or provide any particular advisory services ("Offer"). Any Offer shall only be made through the relevant offering or other documentation which sets forth its material terms and conditions. The foregoing does not provide or purport to provide investment advice and has been prepared by the Company based on or derived from sources the Company reasonably believes to be reliable. The Company has not independently examined or verified the information provided herein and no representation is made that it is accurate or complete. Opinions and information herein are subject to change without notice.
©2023 Equities First Holdings Hong Kong Limited. All rights reserved