EQUITIESFIRST PARTNERS WITH MOUNTAINEERING LEGEND NIMSDAI PURJA FOR 2022 EVEREST SUMMIT: A RECORD-BREAKING JOURNEY TO THE TOP OF THE WORLD
EquitiesFirst has partnered with legendary mountaineer Nimsdai Purja MBE ("Nims") for his record-breaking and successful summit of the world's highest mountain, Everest, in May 2022.
Two new World Records were set by Nims. The first record is for speed. Nims summited Everest, Lhotse and Kanchenjunga, in eight days, 23 hours and 10 minutes without oxygen. The second record is for completing the Everest to Lhotse traverse without oxygen in 26 hours.
---
Setting two new World Records in under nine days proves what we have always known: Nims is a force of nature. We are delighted Nims has successfully summited Everest as well as Lhotse and Kanchenjunga in record time. As I have mentioned, Nims' perspective that, with a determined approach and positive mindset, everything in life is possible, aligns precisely with our own business philosophy.

– Mr Al Christy Jr,
EquitiesFirst Founder and Chief Executive Officer
---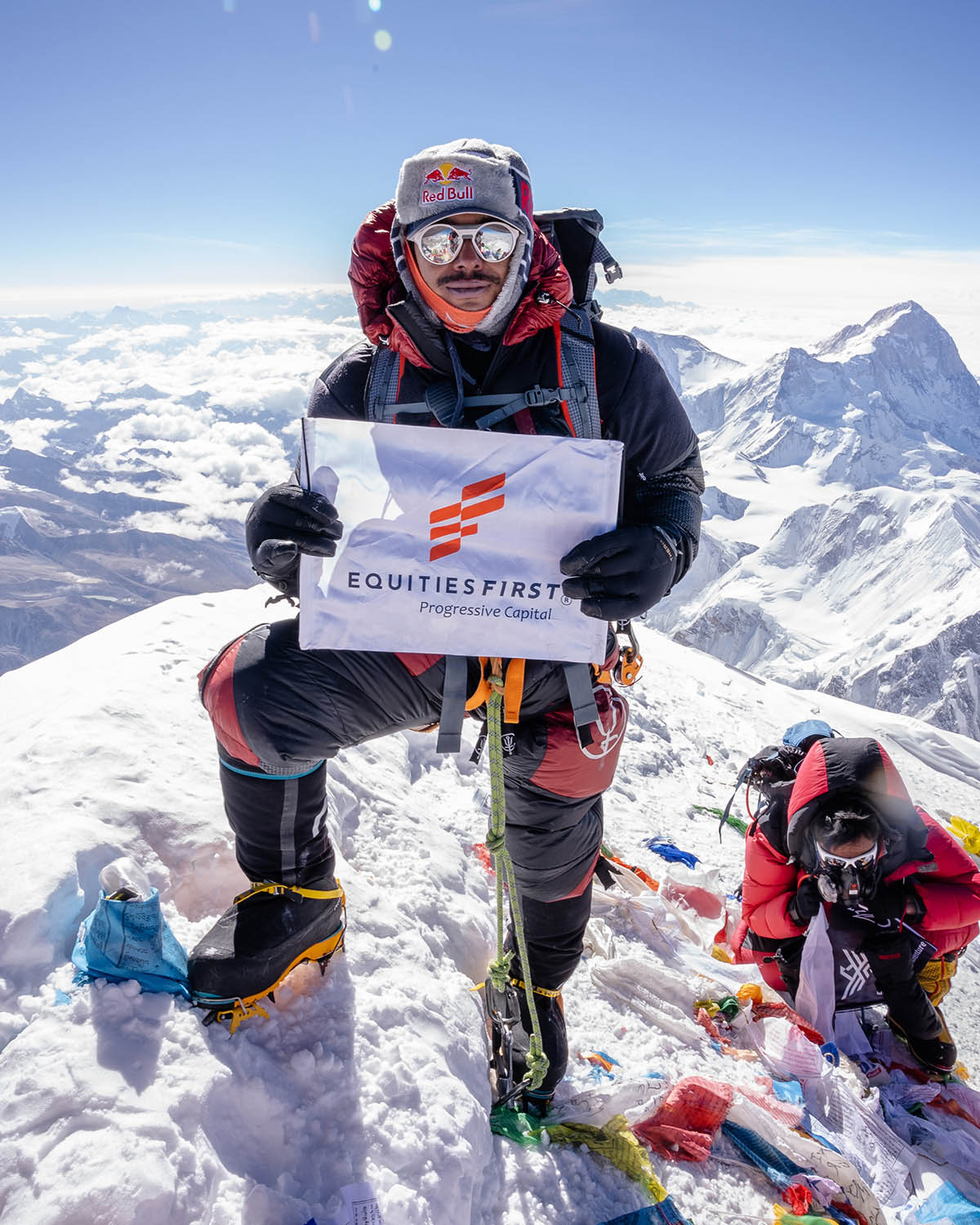 Born in Nepal, and formerly serving in the British Special Forces, Nims is known for his global hit Netflix documentary "14 Peaks: Nothing is Impossible", which he summited all 14 of the world's highest mountains in just six months and six days in 2019.
Nims rewrote the history books in a monumental manner in 2019, defining his climbing mission as "Project Possible" because so many sceptics said his 14 Peaks challenge would prove impossible. Through skill, planning, sheer self-belief and determination Nims and his team showed the impossible is possible.
---
I am delighted to summit Everest. We made great progress and the weather conditions were excellent. At every step of the way, my focus was on guiding and helping our team achieve their new possible. My mission has always been to inspire people and to show what human beings are capable of. This is what gives me energy and excitement; showing people that nothing is impossible. I want to inspire everyone to know they can achieve their dreams and thank EquitiesFirst for their partnership.

– Nimsdai Purja,
Mountaineer
---
Nims stands alone in terms of Big Mountain success. Only 44 climbers have achieved the feat of consecutively ascending all 14 of the world's highest peaks. The previous world record stood at seven years, 10 months and six days. Nims achieved the same feat in just six months and six days.